The Cathedral holds services, such as Vigil and Divine liturgy, are held every Saturday Evening and Sunday Morning. Saturday Evening , Vigil starts at 6PM, Sunday Morning 10AM.
Other Feast Days
In general during the weekdays, the vigil starts at 6PM and the Liturgy is scheduled at 8AM. Major 12 feast liturgies are scheduled from 10AM.
In details, please check the service schedule.
Weekdays Seminary Morning/Evning Preyers
Not served:Monday・national holidays・Seminary's Summer/Winter break
Location: At the right side entrance ,there is a chapel and its inside looks like the pic shown below
.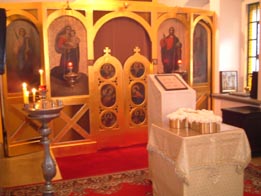 During Seminary's Summer/Winter break
During the Seminary's
Summer/Winter break, there is no service held from mid June to early September also during the winter break from mid Dec til early Jan,
Tue to Fri
Morning 7:30 – 7:55
Evening 5:00 – 5:25
Sat
Morning 7:30 – 7:55
(Vigil service is held on every Saturday evening from 6PM)
Other Various Services
Confessions are required before receiving Holy Communion and can be heard in Japanese, English or Russian during the Vigil Service or before the Divine Liturgy.
Services such as Baptism, Weddings, Funerals, Panihida, Moleben,
(occasional prayers) can be requested by contacting the Cathedral office.
Some services in English, Russian or Greek can be held upon request.